I do believe that 2009 will indefinitely be one of the best years of our life. We are continually blessed by good health, wonderful friends, the best family, and opportunity after opportunity to do the things we love so much and meet and work with some of the coolest people ever!
If you would have asked me 2 years ago what I would be doing with my life-I wouldn't have an answer for you. But the Lord has provided and blessed us with a perfectly chosen path that truly is our heart's desire.
This year holds some of the greatest blessings for us here at aric alan|photography and we couldn't be more ecstatic about it!
Now on with an update!!
We shot our first wedding of 2009 last Saturday, January 3rd here at the Lubbock Club and had a blast! Such wonderful families and an awesome bride and groom-we will have a teaser up for you soon!
We have been working round the clock to get everything prepared for our very first Bridal Show!!!! WOO HOO!!!!
***Attention all brides!!- the "Brides World" bridal show is one of the biggest shows that comes through Lubbock! You can basically plan your entire wedding in one afternoon because all of the top local vendors will be at this show! It's a great place to get ideas, win prizes, hang out with your friends or your fiancee and enjoy a nice Sunday afternoon!
The show will be held in the Lubbock Civic Center on Sunday, January 11th.
We are excited about having TWO booths at the show this year!-
-aric alan|photography
&-4 Frames Photobooths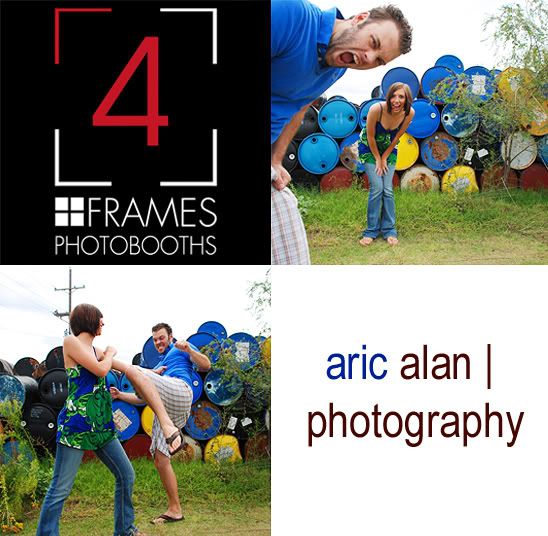 4 Frames Photobooths is our sister business- a photobooth fully designed and built by none other than your favorite professional photographer- Aric!!…and I helped a little too!! 😉
The photobooth is THE perfect addition to any wedding reception-people of all ages can enjoy cramming into a photobooth for the most priceless and memorable pictures! I'll stop there for now-but do come by and see us at the show if you have any questions or are even just a little bit curious as to what it's all about!!!
For tickets to the show you can stop by Tuxedo Junction in the South Plains Mall to grab some- or visit the Brides World website at www.bridesworld.com to order tickets for only $3.00! And if you wanna wait to get tickets at the show they will be only $5.00!
Have I mentioned how excited we are?!- We hope to see you all there!!!
aric + casey
p.s.-for those of you that are interested-I finally chose a wedding website/it's halfway done because I haven't had the time to touch it the past couple weeks, but anyway you can find it
here.